User login
Enter your username and password here in order to log in on the website
We are pleased that you have decided to join our network for development workers ConnectED. The success of ConnectED depends on you, as it lives through your active participation. To ease the first steps in ConnectED, we will take you on a short tour through our network.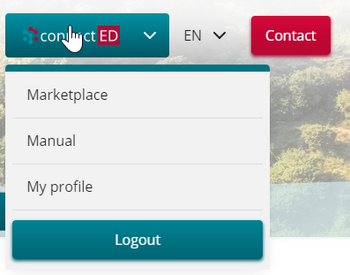 You have already provided some information about yourself and your work. Feel free to add further information: What are you looking for and what are you offering? What experience, language skills or qualifications do you have? This helps you to be found more quickly and be able to find other development workers to network on certain topics.
Perhaps you have already registered as a mentor. This gives younger development workers the chance to learn from you and your experiences.
In order to be informed about new advertisements in the marketplace you can activate notifications. We will tell you more about the marketplace below.
You can access your profile through the main menu under the menu item ConnectED or by clicking on your profile or your e-mail address.
The most important feature is networking with each other. Through the filters on the ConnectED home page, you can find professionals from specific countries or development services, by interest or offers. All profiles matching your search will then appear in a list. By clicking on the individual profiles, you will be taken to the detailed view of the person's profile. Now you have the option of leaving a message for the respective development worker. Important: When you first contact somebody, the contact data of both parties remains anonymous. In the further exchange, you can then decide whether you want to exchange contact information, e.g. your e-mail address
Messages you receive through a request via ConnectED are automatically forwarded to your e-mail address.
Would you like to draw attention to an event? Do you have a vacancy? Or are you looking for contacts on certain topics? On our virtual marketplace, you have the opportunity to publish adverts yourself or browse for suitable offers. Through the notification function, you will always be up to date on new entries.
With just a few clicks, you can place an advertisement in different categories: job search or vacancies, events or others, or simply manage your existing adverts. When you activate the notifications in your profile, you will not miss any new advertisements in our marketplace.