Interview with career coach Silke Grotegut
How to make strategic use of LinkedIn to further your career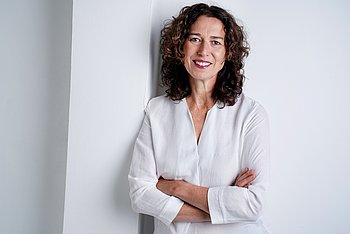 As an independent career consultant since 2015, Silke Grotegut supports people in their professional career development. She previously spent 14 years working in human resources and acting as a sparring partner for managers at the DAX company, Deutsche Telekom AG. So she knows exactly how HR departments tick. She focuses on the creation and optimisation of personal profiles on XING and LinkedIn, taking account of developments in the job market and enabling her clients to gain access to the hidden job market.
In this interview, she reveals why this is so important and what it depends on.
Ms Grotegut, you've just written a book, "Karriere machen mit XING, LinkedIn & Co." Why are social business networks becoming increasingly important for people's career development?
There are several reasons: Most job vacancies aren't advertised any more. People are usually recruited behind the scenes. The more senior the position, the greater the so-called hidden job market. And digitalisation and the growing shortage of skilled workers have brought about major changes in how human resources departments operate in almost every industrial sector across the board. The public service sector is probably the only exception to this. On the whole, HR managers no longer wait for applications to trundle in; they proactively search for competent candidates for the positions that need to be filled. And where do they go about this so-called "active sourcing"? In their network, using headhunters and the search screens of social business networks.
If you don't have a Xing or LinkedIn profile, you have no chance of appearing in the search results that come up for HR managers and headhunters. If you avoid using business networks, you basically make yourself invisible to potential employers and the hidden job market. This means that big steps up the career ladder will become less and less likely and are bound to be more and more difficult.
But there's another important factor: The social business networks make it possible for you to expand your own network enormously. And a good resilient network is always going to be an important factor in your career. You don't even have to meet people in person. And you can also build up and maintain international contacts, especially through LinkedIn.
A lot of people already have a LinkedIn profile but haven't found a job yet or been offered a job as a result. Is it a good idea to mention that you're looking for work? Or what should you pay attention to, if you want to use LinkedIn to boost your career?
If you are indeed looking for a new challenge, you should state that, by all means. But you must make sure that this can only be seen by recruiters. And the focus should be on your profile because you are qualified by your expertise, not by your availability.
Most people make the mistake of treating their profile as if it were simply a digital CV. They register themselves and list all their jobs and leave it at that. LinkedIn in particular gives you the opportunity to highlight your competencies and create your own profile with your target audience in mind. Your target audience usually includes people in your own network and potential employers as well as recruiters and headhunters. The latter often search for particular qualifications and the social networks spit out a list of search results. As with classic search engines such as Google & Co, only the first few results are relevant. In the best-case scenario, your profile will appear among them. The algorithm remains a mystery, but we know some of the ranking parameters from experience. LinkedIn, for example, ranks profiles especially highly if they contain a high density of relevant keywords, have a lot of contacts and a high rate of interaction, and include original content.
In practice, this means that you should:
fill your profile with as many keywords as possible – those that are important in your current job and those that will be important in the job that you would like to have in the future;
use the banner image and slogan to give visitors an immediate impression of why they would gain from networking or making contact with you;
expand your network continuously;
like and comment on contributions from other members of the network; and, best of all,
create posts of your own that are likely to be interesting and valuable for other people.
This sounds like a lot of work...
It's true that it takes quite a lot of effort to create your own profile in the first place. But if you take some time to reflect carefully beforehand on how you can best present yourself, you won't need to do anything more for quite a while. It's worth presenting yourself and your personality in such a way that you stand out from the crowd, especially in sectors where there are relatively few sought-after jobs. You will only succeed, if you communicate and make visible to others the unique combination of competencies, experiences, and personality that only you possess. Present what you do professionally, what you stand for, what you feel passionately about, how you approach things, and, by all means, what it is that you're looking for. When you're creating your profile, if you're actually looking for something or have a clear career goal, you should have a clear picture of your target audience and focus on their interests. What problems and challenges are your prospective employers having to face, for example? Why should they be interested in you as the person to tackle the tasks involved?
Developing your own network and interacting with people is certainly an on-going task, but it doesn't require as much time and effort as you might imagine. It usually takes just a few minutes each day and is very well worthwhile. Networking is primarily about quality rather than quantity. But it is also about taking a strategic approach and networking not only with colleagues, but also with potential employers, multipliers, referees, and news sources.
How can I find important contacts for my network and how should I approach them?
An attractive target-oriented profile increases the likelihood that your contact requests will be accepted. The biggest hurdle to overcome when you're trying to extend your network is your own mindset, especially if you're setting out to include people you don't yet know. When you send a contact request, don't fall into the trap of thinking of yourself as a supplicant. After all, you have something to offer. If you don't feel confident, just state what you have in common with the person concerned or what you find particularly exciting about their work. If you find an employer you would like to work for, write to people who are already working there and ask questions about their day-to-day work. The information that you obtain could be a decisive advantage when it comes to the crunch. People are usually informative and willing to help. But remember that a network thrives on give and take – ideally in that order. You should always ask yourself what information might be useful to your network and share it generously.
In personal messages? Or in public posts?
In both, ideally. If the information is only of interest to a small group of people, it is of course more personal to share it in private messages. This is also a good way, besides sending birthday greetings, to check in with people now and again and to hear what's going on for them without wanting anything else in particular.In both, ideally. If the information is only of interest to a small group of people, it is of course more personal to share it in private messages. This is also a good way, besides sending birthday greetings, to check in with people now and again and to hear what's going on for them without wanting anything else in particular.
64 percent of all the members of LinkedIn only read posts without reacting in any way. And only 4.9 percent – a frighteningly small proportion! – actually produce their own content. This is a huge opportunity for you: Anyone who's active, soon gets noticed. Regular posts, likes, and comments also mean that you are more often seen on the homepage of your network. If you also stand out because your content adds value to the site, you will often be directly associated in people's minds with your area of expertise. And when you comment on other people's posts, you then appear with your image underneath their posts. Comment frequently on the posts of influencers and contribute as often as you can to discussions in your area of expertise. Your comments should be constructive and provide added value. Gain people's attention and stimulate in them the desire to network with you.
Should we be concerned about data protection when we're using social business networks?
You can easily use the settings on LinkedIn to regulate your visibility and to determine who gets what information and how people can access your profile. So it's worth working through all the settings, when optimising your profile. Otherwise, it goes without saying that you shouldn't disclose any business secrets. But, bearing this in mind, you do well to calmly and honestly address the challenges and problems that you face.
Putting up their first posts and contributions can be a big hurdle for a lot of people. Do you have any tips on how to go about it?
It's true that the first post is always the most difficult. It probably won't be as good as your hundredth. But it gets easier, and your posts improve as time goes on. Sometimes we're so deeply engrossed in our own subject matter that we don't realise how new and exciting something might be for other people. Sometimes it's enough, however, just to gain inspiration from other people's profiles which you find interesting, or to find one or two business sparring partners.
Here are three ideas for a post, which are easy to implement:
Present other people's content. If you read an interesting article on your subject online, copy the link and add a short text of your own. What surprised you? What was new for you? What challenges do you foresee? Alternatively, summarise the key points in a short post for your network.
Write about new developments. If you've been to a trade fair or congress or a training course, or if you've read a new study, write a short article about what you've learned. Alternatively, you can post a photo or graphic relating to your area of expertise and tell people what you think about it, what thoughts it brings to mind, or what it might mean for the future.
Take part in an event. LinkedIn offers a lot of events which are usually free and which you can find by searching using the "Event" filter. If you're going to attend an event and want to recommend it to your network, share the information and, ideally, write between one and five sentences about why you're attending and what you're looking forward to. That's your contribution done and dusted!
Read More:
LinkedIn offers more than 600 courses (about LinkedIn) on LinkedIn Learning. You can check this out with a free one-month trial at: https://www.linkedin.com/learning/