Working in Conflict Zones in the Philippines
By Kathrin Buddendieck
From 2016 to 2019 I worked for forumZFD (Forum Civil Peace Service) in Davao City in the Philippines, initially as a volunteer and then as a professional peace worker. Davao City, with 1.5 million inhabitants, is the largest city on the island of Mindanao and the hometown of President Rodrigo Duterte, who was elected in 2016. Mindanao is the arena of several violent conflicts. In the West, Muslim groups, who have suffered centuries of oppression, are fighting for cultural and political self-determination. The establishment of the Bangsamoro Autonomous Region in Muslim Mindanao in January 2019 was a milestone in the peace process. In the east of the island, there have been battles between the Maoist New People's Army and the Philippine military for decades. It is the region's indigenous population which frequently gets caught in the crossfire. Together with local partner organisations, forumZFD is working to promote nonviolent management of the conflicts in Mindanao. The emphasis is on training in methods of nonviolent conflict transformation, the reduction of prejudice and stigmatisation, and facilitation of the participation of marginalised groups in conflict management processes.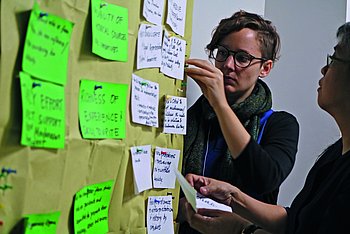 I was 28 years old when I started my voluntary service as part of the Weltwärts programme in 2016. I had a master's degree in International Relations and Security. And I had just completed training in mediation. I had already developed great enthusiasm for conflict transformation and civil conflict management during my studies. But there are very few job opportunities for young people who are starting out in this field of work. One and a half years of job search and a mediation training later, I found my way in through the Weltwärts programme. As a volunteer, I took on the position of programme assistant, which gave me a good inside view of how things are done in the Civil Peace Service (ZFD). Not long after that, I was made aware of what it is like to work in a conflict zone. When two German yachtsmen were kidnapped near the Philippine island of Tawi Tawi, all the Weltwärts volunteers were withdrawn from Mindanao and my service was terminated prematurely. forumZFD then offered me a job as a professional peace worker.
Preparation and further training
In the Civil Peace Service, great importance is attached to the training of professional peace workers in methods of civil conflict management and conflict transformation. The preparation of professionals usually takes place in Germany. It can take up to three months and includes a variety of courses selected according to the trainee's individual needs. My preparation included in-house preparation at the head office of forumZFD in Cologne, safety and security training at the Academy for International Cooperation, and ten weeks of full-time training as a peace and conflict consultant in forumZFD's Academy for Conflict Transformation.
Professional peace worker in the Philippines
Civil peace service entails a wide variety of tasks. As a professional, I worked directly with the programme management team. At the programme level, funding applications are prepared, conflict analyses and programme strategies are developed, and projects are planned, monitored, and evaluated. As part of the project team, I also set up a project concerned with dealing with the past. The history of the conflict in Mindanao and the narratives of the island's indigenous and Muslim populations are not part of the curriculum there. So, together with various local partner organisations, we developed a roadmap for making history lessons conflict-sensitive and more inclusive in the future.
Since 2019 I have been living in Berlin once again. After living and working in a conflict zone for three years, I had to find my feet in the labour market in my home country. A large proportion of the jobs in development and civil peace service are located abroad, so you need to be creative if you're looking for a job in Germany. AGdD's free seminars for returnees were a great help to me in finding out how I could make use of my newly acquired knowledge within Germany. It soon became clear to me that I want to continue to apply my skills in nonviolent conflict management both at home and abroad. So I'm now working as a freelance consultant in the field of conflict transformation.
Kathrin Buddendieck, consultant for conflict transformation; 2016 - 2019: Philippines, forumZFD.