Six formative years in Lima, Peru
By Eva Tempelmann
"Lima? Never again!" When I first visited the Peruvian capital in 2005, my judgement was damning: too big, too grey, too much traffic. Who would have thought that many years later I would call this metropolis with 11 million inhabitants my second home? In 2014 I moved to Lima with my husband and our two children, Jakob (3yrs.) and Ronja (1yr.). We had accepted an offer from the Swiss development organisation Comundo of work in an environmental network for three years - on the issue of mining. My husband worked as an environmental consultant. And I worked as a communications expert. Our work took the form of development service with AGIAMONDO and the contract included a comprehensive package of financial support and insurance for the whole family. Twice we extended our stay for another two years – until the COVID-19 pandemic suddenly catapulted us back to Germany in the spring of 2020.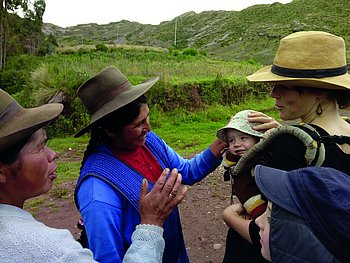 It was clear from the outset that we wanted to go and live abroad as a family for a while. My husband is a geographer. And I work as a journalist and trainer for intercultural encounter. We spent several months looking for suitable jobs in Latin America. We had already lived in Ecuador, Cuba, and Bolivia, spoke Spanish, and felt at home in Latin America. When we were finally offered work with the Red Muqui environmental network in Lima, we were delighted with the prospect of exciting work in a diverse country. But in Lima? "Let's give it a try," we said to ourselves. So we packed seven suitcases, a child's bike, our children, and ourselves off to Peru. During the first six months we felt like we were on a roller-coaster. Things often became too much for us in several ways: the big city, the traffic, our work, the lack of infrastructure. Who was going to look after our children when we were out at work? How were we going to open a bank account? How were we going to find an apartment near where we were working? The grey skies over Lima – typical of the winter months – dampened our spirits as well. Then the summer began, and everything came together. We found a beautiful apartment and a day care centre for our children. We bought some bicycles. And we established our first friendships. We discovered the Pacific on our doorstep and fell in love with the great diversity of the city, the people, and the whole country. We soon had a best friend with a family, someone to share our apartment, a babysitter, and welcoming and supportive neighbours who were curious about the only expat family in our part of the city.
We extended our stay twice because we felt that we were "right in the middle of everything". We found our work enormously satisfying and meaningful: accompanying the local population in their resistance against huge mining projects; and reporting on human rights and cultural diversity. We were well connected; Our children had friends; We travelled a lot and often had visitors from Germany. When we found a small school in the neighbourhood that had social justice and environmental protection on its curriculum, we forgot about our children possibly starting school in Germany. We felt so contented that we even decided to have another child. Mayra was born in 2018 – a home birth thanks to excellent support from the local birth centre and the health insurance included in our contract. What was missing in the end was a tidy conclusion to our time in Peru, a proper farewell. When the COVID-19 pandemic hit Peru with full force in March 2020, we decided to go back to Germany temporarily. But we've ended up returning for good. Now we live and work in our home region of Westphalia and miss our friends, the sea, the school, the tree that our children liked to climb in the park outside our house, and the fresh mangoes for breakfast.
Get out of your comfort zone!
I can sum up by saying that the time abroad was a wonderful experience for our family. We became a close-knit family through all the intense experiences and the discovery that we could learn something new every day – a word, a dish, another story about Peru. And we discovered that a lot of doors open when you listen and observe instead of analysing and judging. I'm glad we gave the big city of Lima a chance when the time came. We found excellent infrastructure as regards education, health care, networking, and travel. So I can strongly recommend to other families: "Take the plunge! Because the magic begins outside your comfort zone."
Eva Tempelmann, journalist, trainer 2014 - 2020: Peru, AGIAMONDO/ COMUNDO.