Interview: Fundraising in Cambodia
"Our biggest impulse was the fear of narrow-mindedness"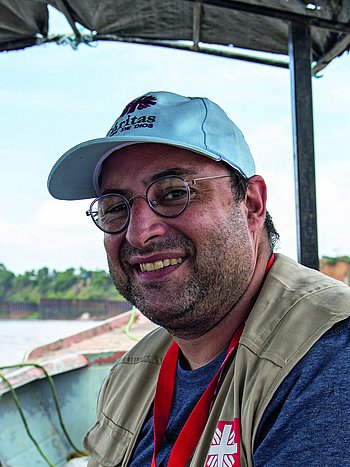 From 2013 to 2016, Dariush Ghobad worked for Brot für die Welt/DÜ in Cambodia. He was accompanied by his wife and two children, who were aged three and six years when the family left Germany.
He worked for a partner organisation of Brot für die Welt (Bread for the World) which was dependent on both secular and church organisations for financial support. As a regional fundraiser, he developed local and regional fundraising for the organisation so that an increasing number of Cambodians, both inside the country and in exile, are now supporting the organisation's work financially.
Dariush Ghobad now lives with his family in Freiburg and works as Head of Marketing, Fundraising and Communication at Caritas International.
Mr Ghobad, what prompted you to go with your family to Cambodia to undertake development service there?
To be honest, we had hardly come across development cooperation beforehand. The biggest push factor for us was wanting to avoid becoming stuffy and narrow-minded. We lived in a house at the end of a terrace and enjoyed all the usual comforts. That was all very nice, but we needed and wanted a challenge. So we set about actively looking for one. We went away with six suitcases to spend three years in a completely new environment. It was a somewhat daunting adventure for us, but it turned out to be richly rewarding. None of the four of us would want to have missed out on it.
If you wanted to escape from the house at the end of a terrace, wouldn't you have done better to stay abroad for longer? Why did you choose to undertake development service?
It was clear to me that if we were to spend time abroad as a family, it should be meaningful and useful. And indeed, I felt that it was doing us good. I associate going abroad and spending all that time in a country which was quite alien to start with not only with a lot of joy, but with considerable effort, stress, and uncertainty as well. However, I was able to live with that very well because I knew what it was all for. We weren't doing it just for fun or to climb the career ladder. We wanted to change people's lives and that's what was important to me.
I especially liked the focus of development cooperation I experienced during my development service. It was about making yourself replaceable and not acting like a great expert who knows everything. My attitude was: "I know the date of my return flight. I'll be going back to Germany. But these people will be staying here." So it wasn't a question of building up something around myself as a person. It was about bringing about lasting change in people's living conditions.
How did development service affect your professional development?
My career wasn't interrupted at all by the period of development service. Indeed, the experience turned out to be valuable and helpful as regards my future career. While preparing for service and then during my time abroad as well, I learned a lot of skills which helped me tremendously in my professional development.
When I returned to Germany, I was given a managerial post, which hadn't ever been the case before in Germany. I've taken on responsibility for two teams of 15 people. I'm still working in an international context in a large emergency and disaster relief organisation where it helps a lot to know what goes on at the local level – even though I only know this from one country as an example.
Can you tell me about some of the skills that you came back with?
When you're working in Southeast Asia, you learn a new way of staying calm and unperturbed and managing your time, for example. This is something that most people learn. But beyond that, it's also a question of learning to step back from your own particular perspective. And managing to understand very different points of view and mediating between them. This is a very important skill for me as a manager. I don't see myself as someone who stands in front of other people and tells them: "This is how things work and this is what we have to do." When I was working abroad, I learned to listen to the expertise of my colleagues and to deal with ambiguity and a variety of perceptions.
Do you sometimes feel homesick for the country that you were deployed in? And how does your family feel about it?
For me, Cambodia is my home and part of my identity. Certain pictures, smells, music, and particular kinds of food can easily make me feel homesick for Cambodia. But as a family, we've decided not to return there any time soon, so that our beautiful and precious memories aren't blurred by new impressions.
It's a gift and a great privilege that we, as a family, were able to gain this experience of development service. We, the four of us together, were able to get to know a foreign country and a foreign culture very thoroughly. And we accepted this gift with great joy. I've continued to feel grateful for it ever since and I'm sure this gratitude will stay with me for the rest of my life. Undertaking development service made my life more beautiful in so many ways and continues to do so today. Our time in Cambodia has had a formative impact on us as a family too and has enabled our children to see things from different perspectives.
I would like to mention one more aspect by way of conclusion: For a family like us to be able to undertake development service in Cambodia for three years requires a lot of committed people working competently behind the scenes to prepare and accompany us and to support and facilitate the process of returning to Germany. They made it possible for us to enjoy this gift in the first place. We got to know a lot of friendly people who supported us with considerable patience. They're all motivated, even when dealing with the little things in life. And I want to express our thanks to these people from the bottom of my heart.
The interview was conducted as part of the AGdD Tracer Study 2022 for the publication "Die Welt im Gepäck. Returned professionals from the development service in the years 2011-2022". The interview was conducted by Dieter Kroppenberg.