As a gynaecologist in Ethiopia: HIV prevention and family planning
"My stays in Africa during the development service are the phases of my life that are incredibly important to me."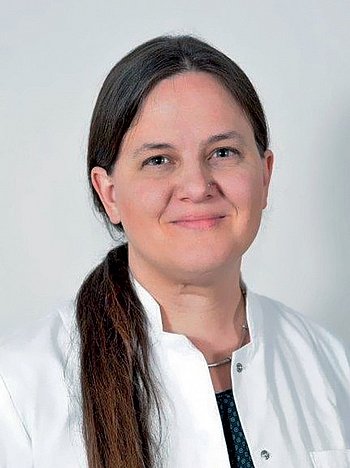 Annette Ballhorn has undertaken development service twice – most recently in Ethiopia from 2011 to 2013 with her husband and two children. One of her tasks there was to advise, on behalf of GIZ, various projects and programmes about how they could integrate HIV prevention and family planning into their activities. In December 2013, the family returned to Germany shortly before the birth of a third child.
Annette Ballhorn lives with her family in Bordesholm and works as a senior consultant in the Women's Clinic of the Friedrich Ebert Hospital in Neumünster.
Ms Ballhorn, you've gone to Africa twice to undertake development service – once to Rwanda and once to Ethiopia. What sparked your interest in development cooperation?
Well, the seeds were already sown during my childhood. My upbringing was more humanist than Christian, but the precept of loving one's neighbour has always been a strong motivating factor for me. When I was studying medicine and was due to do an internship, I seized the opportunity to go to Ghana for six weeks. It was then that I "caught the bug", so to speak.
Your last assignment was for two years in Ethiopia together with your family. What was that experience like for you?
We left for Ethiopia as a family with two small children. Our third child was born shortly after we returned to Germany. The two older ones were two and four years old when we left, so they were still very small. That was a phase of life that is usually very stressful for young families. Building a house and starting a career and so on is often part of it too.
It was much more relaxed for us, though, because there were good structures and staff where we were – for the provision of childcare, for example. We weren't under quite such a lot of pressure at work, either. So this stage of life – with two young children – was much less complicated for us than it would have been if we'd been in Germany.
But you then returned to Germany from Ethiopia after only two years.
That's right! There was never any doubt that we would return to Germany. I like the old idea behind the German Development Workers Act, that your assignment is only temporary and that you return home afterwards. This ensures that you don't lose the critical perspective of an outsider and that you don't get caught up in local structures.
And, although we had a good time in Ethiopia as a family, we wanted the children to grow up in Germany and to go to school here. So our return was planned from the outset. Both my husband and I had special leave for the two years of my development service, so we were both able to return to our jobs. Our house was sublet during the time and even our car was still there when we came back.
Is the time in Africa still important to your children today?
Not so much for our daughter because she was still very young when we came back. But our son's experiences in Ethiopia are still precious to him, like a special treasure that he carries around with him all the time. You soon notice this when he talks about that time and tells us about his memories.
Which of the skills and experiences that you brought back from your development service are particularly important to you?
Through the development service, I developed much greater awareness and acceptance of diversity. When I'm joining in a discussion or participating in decision-making, I'm often able to see things from a different perspective and to observe things which other people don't see. And that has a lot to do with my experiences in Rwanda and Ethiopia. I'm better able to come up with creative ideas about ways of looking at things and dealing with issues. I also learned a lot through my work in the field of project management and organisational development, which I can now put to good use in my work at the hospital.
And one thing became even clearer to me during my development service: Black-and-white thinking of any kind is extremely dangerous. It is so important for our society, for society generally, that we also see shades of grey and avoid simplistic thinking.
I believe this is one of the essential goals of education: to help people to see things from a broader perspective. That's one of the reasons why I also like being involved as a lecturer in Bildung trifft Entwicklung (Education meets Development, BtE). I'm able, with authenticity, to supplement current news and background analysis on social media and in publications with observations and analysis from my own personal experience.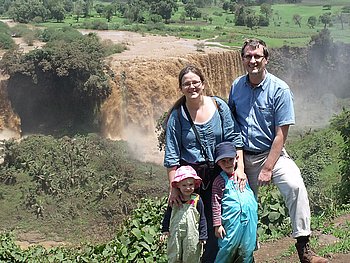 Your development service has evidently been a source of motivation and ideas feeding into your social involvement. Are there other areas where your experience enables you to make a useful contribution?
Yes, ever since my years as a student and my year of practical training in Heidelberg, I've been involved in the Women's Health in Development Cooperation working group of the German Society for Gynecology and Obstetrics. I already contributed some observations immediately after my first stay in Africa – in Rwanda. Now I'm active as a member of the Board. Many of my colleagues in the profession are doing excellent research for this working group through projects that I believe are very effective and sustainable and in line with my ideals.
I'm also giving two lecture courses at the University Hospital in Hamburg: one entitled "Women's Health: An International Perspective" and one on "Practical Obstetrics and Gynaecology in Countries with Limited Resources". This teaching is something that I probably wouldn't be doing if it wasn't for my experience as a professional development worker. I get a lot out of it because it complements my work at the hospital.
Now I'm also involved in a new regional network concerned with the issue of genital mutilation. And here too, of course, I can contribute considerable understanding and sensitivity and a great deal of background knowledge from my time in Africa.
In retrospect, how do you rate your development service now, several years later?
My periods of development service in Africa are two phases of my life that mean a great deal to me – in terms of memories and my own identity, as regards my values, and ultimately in terms of what I want to pass on to my children.
Thank you, Ms Ballhorn, for talking to us.
The interview was conducted as part of the AGdD Tracer Study 2022 for the publication "Die Welt im Gepäck. Returned professionals from the development service in the years 2011-2022". The interview was conducted by Dieter Kroppenberg.