Serving on the Returnees Committee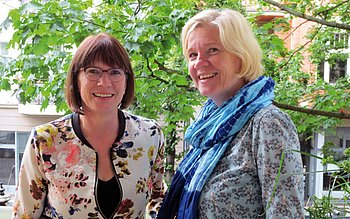 Susanne Blochberger (left), Angela Grünert (right)
We are: Susanne Blochberger, designer, who has served most recently as a professional development worker with Brot für die Welt in Namibia, where she set up an art and design centre as an income generation project for the Community Skills Development Foundation;
and Angela Grünert, scholar of Islam and an administrator with the Berlin Mission, who has worked at Talitha Kumi, a Protestant school centre in the Occupied Palestinian Territory, with financial support from EED. What brings us together: We both returned to Berlin at the end of 2014.
Soon after her return, Angela took up her first permanent post as an administrator in the Protestant church. Susanne decided to become a freelance consultant in the fields of design and sustainable development. She works both in Germany and in Namibia.
We met in the Returnees Committee (RKA) of Brot für die Welt, when we were both at much the same stage of personal and professional re-integration. Our reasons for joining the committee were similar: We wanted to meet people with personal experience of living overseas and the challenges which returnees face, people who continue to live between the two worlds, even though they returned a long time ago. We both experience returning as a process, in which one passes through various stages without ever reaching the end.
This process is at the heart of the work of the RKA, which offers support to professionals not only during their return but also beforehand during their overseas assignment. One of our tasks is to work in various committees of Brot für die Welt, in order to contribute ideas and suggestions, drawing on our diverse experiences. We are also involved in promoting development education in networks for development cooperation, local initiatives, church congregations, and schools.
The Returnees Committee has about 30 members who are elected by returnees. We are currently trying out a new election process and are giving all new returnees an opportunity to attend a "trial" committee meeting. Anyone who has not yet taken advantage of this opportunity, is welcome to do so. The RKA can be contacted at this e-mail address: rka-eed@gmx.de
The RKA meets for a weekend three times per year. The meetings are held in various places, except that the first meeting of the year is always in Berlin. We invite our staff contacts at Brot für die Welt and guests from the region in which we are meeting to join us in discussing development policy and issues which are of particular interest to returnees. The committee has various specialist interest groups as well.
A lot of the committee members have known each other for years; friendships have developed; joint projects have emerged; and we support each other. The time spent overseas and our experience as returnees is the common thread which holds us together. This can be said for the two of us as well. More than two years after our return, we now share the feeling that we have arrived not only in practical terms but, on the whole, emotionally as well. We have each found our niche professionally and settled into a circle of friends, into our homes and into daily life. Nevertheless, we share a need for space in which we can grow, space in which we can make a useful contribution, drawing on our experience of life "between two worlds". So Angela is involved in facilitating the integration of refugees, and Susanne is also wondering how she might make a contribution in the field of migration and integration. Right now we are exploring together the feasibility of setting up a mentoring programme for refugee children of primary school age.
Susanne Blochberger lived in Simbabwe from 1997 to 2002, in Southafrica from 2004 to 2008 and in Namibia from 2008 to 2014
Angela Grünert lived in Sudan from 2006 to 2008 and in Palestine from 2012 to 2014 (published in transfer volume 1/2017)