I miss Kenya, but feel at home in Germany.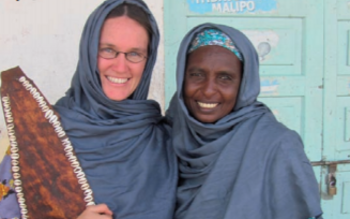 Katrin Heeskens (li.)
My life as a development worker in Isiolo in Northern Kenya from 2008 to 2011 was exciting and great fun, but also challenging. Those years can be summed up perfectly using two adjectives: "colourful" and "varied".
Why do I begin this short article on "Aspects of Returning" with these two adjectives? During the years in Kenya, I worked as a health coordinator and organised the provision of health care in the Diocese of Isiolo, and my working days were filled with a lot of different tasks. So when I returned to Germany, I could no longer imagine spending my working days in "a perfectly normal office job". But we had decided as a family to stay in Germany with our three children, so I chose to look for other tasks and challenges in addition to a "normal" job as an employee, so that, all-in-all, my life here would be really colourful and varied once again.
Together with a few friends, my husband and I founded a charitable association, "Tumaini Isiolo e.V., Hope for Kenya". This association supports disadvantaged children and young people in Isiolo, so that they can attend school or college. Our former child carer and friend, Martha Njeri Mwangi, manages and coordinates all the organisational work in Isiolo, while I maintain contact with sponsors and donors here in Germany.
During our years in Isiolo, my husband and I repeatedly came to the conclusion that our work in health care was all well and good, but that the way to bring about lasting change is clearly through education and training. My work for the association, especially the direct contact with Martha and the children and young people, is important to me as a way of staying connected with Isiolo, Kenya, and Africa.
Four years ago, I decided, in addition to my work for this small association, to stand for election to the local council in the local elections. Here in Germany as well as in Kenya, people need to do things for society and to be politically active. I now serve on the Schools, Culture, and Social Affairs committee and try to bring my principles of social justice into play at the local level.
And I continue to work professionally in the health care system. As a course manager, I'm responsible for the course in Applied Nursing Science at the Dual High School (technical college) in Baden-Württemberg. I came to this post indirectly through my work as a development worker. Building on my work experience in Kenya as coordinator of a health department, there were two areas of work which I wanted to learn more about: personnel and management. Having only touched on these subjects when I was studying for my Bachelor's degree, I was able to study them in depth for my Master's. This was and is a requirement for my current job.
Now, in December 2017, we have been living in Germany again for exactly six years. Although we find life "colourful", varied, and enjoyable here once again and are very happy here, my husband and I still miss living and working in Isiolo.
Katrin Heeskens lived in Kenia from 2008 to 2011 (published in transfer volume 2/2017)