From flea market to collecting donated jigsaw puzzles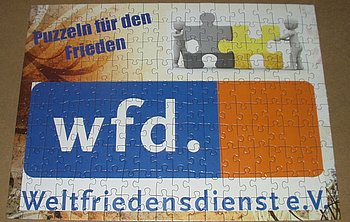 Wulf Schubert und Gabriele Schubert
Our old passion for jigsaw puzzles was reawakened by chance ten years ago. We were collecting donated items for our flea-market in aid of a Peruvian senior citizens' club, when we called in once again on an old lady who had a load of jigsaws piled up in her cellar. "Yes, you're welcome to take them with you, if you can sell them in your flea market," she told us. But it was an open question as to whether the puzzles were complete.
Our regular customers at the flea market were used to relying on us for the good quality of our wares. So it was obvious to us that we should do the jigsaw puzzles ourselves, in order to be able to claim that they were complete. This sparked off our passion once again and we soon succeeded in selling the donated puzzles. So we had to get some more from somewhere.
The toy shops only had limited supplies. But my wife, Gabriele, happened upon an Internet forum for jigsaw puzzle enthusiasts and has now been active in it for ten years. This has enabled us to explore a diverse world of puzzles, so that we can do puzzles together in the evenings without having to do the same puzzle more than once.
Unfortunately, because of the restructuring of development cooperation in Germany, when DED merged with the GTZ to form GIZ, we had to end our cooperation project with "our old people" in Peru. Through the World Peace Service (Weltfriedensdienst e.V.) we now support TSURO, an organisation of small-scale farmers in Zimbabwe.
We told people in the "private corner" of the puzzle forum about our activities and how we were running a flea market to raise funds. And at meetings in several different cities we talked to members of the forum and were able to gain their support for our fundraising efforts.
The result is that for eight years now a lot of supporters have been sending us puzzles which Gabriele presents in the "Donate a puzzle!" column at www.puzzle-forum.de. We then send people puzzles in return for a donation to TSURO/World Peace Service.
Twice a year members of the forum appeal for people to participate in a so-called "Jigsaw Mega-Marathon". We suggested "Doing Puzzles for Peace" as the motto for last year's Summer Mega-Marathon and this idea was greeted with enthusiasm. We ourselves pledged to donate one cent to TSURO in Zimbabwe for every piece of puzzle laid. Other puzzlers had already announced their own pledges in advance, such as a one cent donation for each piece they laid themselves, a one euro donation for each participant, or a fixed donation. This was all very encouraging! Thirty-eight forum members, supported by friends and neighbours, did puzzle after puzzle from midnight on Thursday night until midnight on Sunday night. Some even took the Friday off from work. The result was altogether unexpected: A staggering 164,811 pieces were laid, more than triple the previous year's outcome!
Together with contributions from a lot of additional events, 2,500 euro were raised for TSURO by people doing puzzles on this weekend – a great result for a fun weekend in aid of a little more peace in the world.
Wulf Schubert and Gabriele Schubert lived in Peru from 1989 to 1992 (published in transfer volume 1/2017)