From development service to the Supervisory Board of GIZ
From development service to the Supervisory Board of GIZ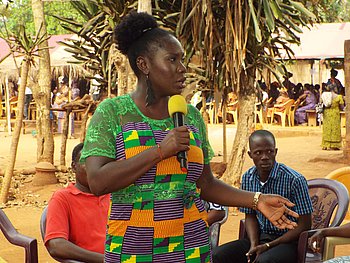 Louisa Sedjro
I came to GIZ in 2014 more or less by accident. I had started my legal internship and was looking for a placement in or near Togo. I was born in Togo and have dual nationality, so I identify with both countries and cultures. I sent an e-mail to the project manager of GIZ's decentralisation project in Togo and then found my internship contract in my letterbox only a few weeks later. The months that followed shaped my life: I was mostly sent to work in the small town of Tsévié – together with a Togolese GIZ professional, who is still like a big brother to me, and a German GIZ professional. It was like coming home for me: I worked less than 20 kilometers away from my family; the people spoke my mother tongue, Ewe; and a lot of people even recognised my family name. Three months later, everyone was sorry that I had to leave. So I went back to Togo exactly a year later – this time to do development service there.
During this time of development service, I applied for a post as a junior advisor in the same project. What then happened was one of the most painful experiences of my life. Suddenly there was a formal obstacle: All of a sudden, I was Togolese! I couldn't understand it! How could I be sent as a German to undertake development service in Togo and then experiencing that I was not German and could not therefore work as a professional sent from Germany? Although I was told that I was the best candidate, my application was rejected. But then at the same time I was told that my development service contract could be extended. It seemed that it was not possible for me to be sent to take up a post as a junior advisor, but it was possible for me to be sent as a development service worker. I was thoroughly confused and upset. I left Togo extremely frustrated and went back home to Germany.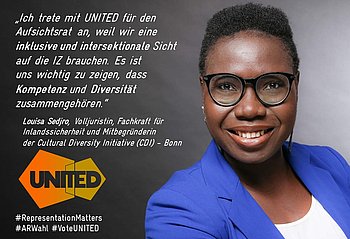 To everyone's astonishment, I was then appointed as an advisor to the Management Board of GIZ. But I soon became aware of the looks of surprise, whenever people saw me, a black person, sitting in meetings. The looks of surprise at the headquarters and on business trips when people saw that a person of African origin was now working for the Management Board.
I couldn't understand the company anymore. Why is it so surprising that a person of African origin is working for the Management Board? And if working FOR the Board causes such huge astonishment, will it ever be possible for a person who looks like me to actually become a Board member? These were the questions going through my mind as I got into conversation with more and more colleagues – colleagues who themselves were not white and also felt that they did not really belong. I found people who wanted to change things, just like I did – people who wanted to assert their right to exist within GIZ and in development cooperation and to address critical issues around discrimination, racism, and diversity. So in 2018 the GIZ Cultural Diversity Initiative (CDI) was founded. It now has more than 240 members in Germany and abroad. The CDI is an advocacy group and an informal network of colleagues from diverse ethnic and cultural backgrounds, who identify as Black, Indigenous and People of Colour (BIPoC, for short). We take part in the debate within GIZ about corporate policy on ethnic and cultural diversity and see ourselves as a voice for dialogue about diversity, inclusion, and intersectionality. Over the past five years, we have shaped the corporate discourse on the topics of diversity, discrimination, and racism, challenged structures, and given support and encouragement to employees. In addition to CDI, we have founded, together with the giz.postcolonial initiative, the CDI&Allies network, in which BIPoCs and white colleagues are engaging together. 2022 was a big election year for GIZ. In May, the local works councils were newly elected. And in July the employee representatives were elected to the Supervisory Board. For us in our employee initiatives, these elections provided an opportunity to get members onto the bodies for worker participation. We joined forces with existing electoral lists for the works council elections.
But for the election to the Supervisory Board, we joined with two employee initiatives, Rainbow Network and giz.postcolonial, and the disabled persons' representative to put up a joint list, "UNITED".
Although our list was new, we gained the most votes at each of the offices and now have two seats on the Supervisory Board. So I am the first – and so far the only – black woman to sit on the Supervisory Board of GIZ, which is a federal institution with more than 26,000 employees worldwide. A lot of news reports after our election victory showed how important this is to GIZ's employees.
I am very pleased to have found a lot of like-minded people in GIZ, with whom I can prove again and again every day that people like me have the right and the competence to participate in shaping and making decisions. And I hope that we will soon not have to prove this any longer and that it will simply be taken for granted. And, who knows, maybe I will one day get to see a black Board member at GIZ.
Louisa Sedjro was in Togo from 2015 to 2017. Today, she works for GIZ in the unit for Security Management Germany.