What is development service?
Development workers are experienced professionals who enter into a development worker service contract to spend a fixed period of time living and working in a country in the Global South. What is special about development worker contracts is that the professionals offer their skills in the spirit of solidarity and do not receive a customary salary.
The Development Workers Act (EhfG) sets the framework for this commitment. It regulates the benefits and social protection coverage provided to those undertaking assignments. It also defines the criteria for recognising development service providers. Only these official providers are permitted to conclude service contracts with development workers.
There are currently seven recognised development service providers in Germany: AGIAMONDO, Coworkers – Christian Services International, CFI, the Deutsche Gesellschaft für Internationale Zusammenarbeit (GIZ), Dienste in Übersee (as part of Bread for the World – Protestant Development Service), the International Christian Service for Peace (EIRENE), Forum Civil Peace Service (forumZFD) and Weltfriedensdienst (WFD – World Peace Service).
These organisations shape the range of assignments available to development workers. Their approaches are quite varied. New development worker positions are often created at the request of a local organisation, with the partners coming to an agreement on the aim of the assignment and what the role should involve. Some providers initiate their own projects and programmes and integrate development professionals into this work. And there are also development worker posts in projects run by third parties which are established on the basis of a cooperation arrangement with a recognised provider. At the heart of all assignments is the focus on requirements in the partner countries.
Development service providers
The concept of development service goes back more than 50 years. Much has changed in this time, not least our understanding of development and what development service can achieve. The focus today is on combining professional knowledge and partnership, learning together, engaging in intercultural exchange as equals and developing and implementing relevant strategies for solving problems on the ground. Peace and social justice are key themes underpinning all development service assignments.
A study published in 2015 by the German Institute for Development Evaluation (DEval) illustrates what this means in practice. The study concludes that the activities of development workers have a positive impact if they are based on the following principles:
Creating and promoting shared practical knowledge
Building trust
Respecting and guaranteeing ownership
Making productive use of otherness
Promoting empowerment
Development service working together to build a cohesive global society
How do I become a development worker?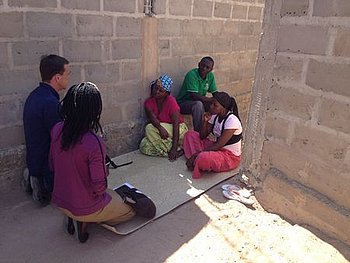 Nowadays, anyone wishing to carry out a development service assignment needs to have good qualifications and professional experience. 'Development worker' is not a defined profession and although knowledge of development policy is an advantage, it is not an absolute requirement for many jobs. What is more important are other diverse, but clearly defined qualifications. All job ads outline the specific professional requirements and the skills that are needed. Anyone interested in applying should compare these carefully with their own profile. Motivation also plays a key role. Development service is not just about professional knowledge, but also about attitudes and values – the individual providers normally make this very clear in their job ads.
In addition, foreign language skills are essential and, for most locations, professionals will need to be in good health and able to work in a tropical climate. Development workers must also be willing to accept very different living and working conditions. The means not only demonstrating cultural openness and a fundamental willingness to learn, but also taking a relaxed attitude to constraints (technical communication options, consumption habits, leisure activities, etc.).
The revision of the Development Workers Act in 2016 introduced the option of assignments that last less than two years. However, the average contract term is just under three years, and many jobs are advertised for a minimum of two years. In addition to this, professionals are normally required to take part in a preparatory course in Germany, involving provider-specific modules and other training.
One of the notions at the heart of the concept of development service is that returning professionals, with their wide-ranging and at the same time unique experience, also benefit German/European society. The providers have measures in place to support their returning development workers, and AGdD's Reintegration Programme also offers particular assistance in identifying further career options.