STOP TALKING. START PLANTING.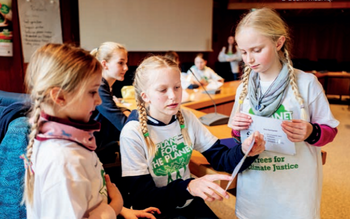 Active in Plant for the Planet and Fridays for Future
Tabea Maier
Together with my parents, Nicola and Christian Maier, and my siblings, I spent nearly five years in the Cordillera Region of the Philippines. The landscape there is dominated by cloud forest and terraced rice paddies. But I also experienced some very dry summers, when our pastoral centre sometimes had no water.
We regularly planted trees around the many springs in a nearby locality. The roots of the trees held the soil on the hillsides, when, following a period of drought, there were sometimes violent typhoons which swept away the roads.
I now live with my family near Paderborn, on an organic farm which belongs to some friends of ours. On our community supported agriculture farm the recent very dry summers have been very tiring, because we had to do so much watering and the wells almost dried up. Climate change is making itself evident all over the world.
On the road as a climate ambassador
For more than a year I've been going with friends and our farm community to Fridays for Future demonstrations to try to alert people in Paderborn to the reality of climate change. At the demos I've observed that a lot of people are thinking about climate change.
Last November I went to a Plant-for-the-Planet summer school with some of my friends. And since then I've been acting as a climate ambassador. I've already given two talks at my school. And now we want to tell all the Year 5 and Year 6 school students about climate change. We've agreed with the headteacher that we can participate in the maintenance and development of the new school garden. A small group of us has already constructed an insect hotel. I went to another summer school recently with my younger siblings and some friends. It's great to see how many ideas we children come up with and how we want to get involved. Afterwards we had a group photo taken in the One World shop, because some of us tasted and sold the "Good Chocolate" from Plant-for-the-Planet. The photo is going to be published in the newspaper, so that more people in our region get involved in working for climate justice.
Climate Strike
We're also making placards for the Global Climate Strike on 24 April 2020. Together with Fridays for Future, we want to get on stage to present our concerns to adults. It is not enough for us and our families to try to live sustainably. We have to stop talking so much and start planting more trees. We have three goals: 1.000 billion trees are to be planted. This will give us more time. Secondly, we aim for 100% of our energy to come from renewable sources by 2050. We all need to make a lot more effort, so that we can realise our third aim, which is to reduce our annual CO2 emissions from eight tonnes per person to 1.5 tonnes per person. These are our three aims. And they are achievable. STOP TALKING. START PLANTING.
A global climate strike has now been planned for 24 April 2020. And we will go on striking, because politicians and businesses are not taking the decisions which have to be taken to actually stop climate change. School students who want to do something, can visit a summer school, for example, or get involved in some other way - in every city, all around the world! We call on everyone to do that!
Use the online materials from Plant-for-the-Planet in your school and give talks, talk to your parents, and plant trees! We, the children, are now saving the world!
Tabea Maier lived in the Philippines from 2012 to 2017 with her parents (published in transfer volume 1/2020)