Sport for Development
Travelling around the world as a trainer of trainers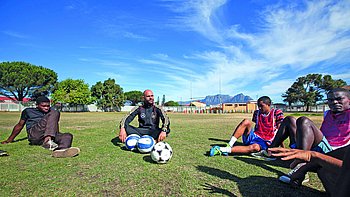 Sascha Bauer
My cv is somewhat unconventional. When I left school with an Abitur (school leaving qualification), I went straight into the world of work – without learning a craft or studying at university. I worked in a wide variety of jobs: on a telephone hotline, in a wholesale business, as a self-employed sales representative, and, finally, as a job broker for an employment agency. Throughout this time, I continued to pursue my great passion – working with children and young people. Ten years of working with young people as a football coach led me from a small village club in Hesse to Eintracht Frankfurt, where I trained children's teams from 2005 to 2008. During this time, I also obtained my football trainer's licence. And this laid the foundation for a career as a trainer of trainers.
Making better use of the potential of sport
One evening I was sitting in the sauna with some friends and heard about a football development project in South Africa. This signalled the start of my work in the field of sport for development. I worked in South Africa to start with, in 2008 and 2009, in the field of teacher and trainer training. From 2011 to 2013 I was employed by the Mozambican Football Association and trained the national under-17 team.
In 2010, together with some friends and acquaintances, I founded the social profit organisation "Football for Worldwide Unity e.V." We see football not only as a competitive sport which can be a lot of fun, but also as a vehicle for the development of diverse areas of competence, especially among young people. Since
2010, Football for Worldwide Unity – in cooperation with some remarkably diverse partners – has been running projects and educational programmes so that better use can be made of the important potential of sport.
Projects in Mozambique and Brazil
In Mozambique, for example, we organised football and life skills festivals in and around Maputo in cooperation with GIZ's HIV prevention programme. Our aim was to give children and young people who grow up under extremely difficult living conditions great sporting experiences with a lot of joyful moments, and at the same time to deliberately promote mental, emotional, and social skills that are useful in other areas of life as well.
After two years in Mozambique, I was selected for the GIZ "Sport for Development Programme" in Brazil, where we created new educational programmes – or further developed existing programmes – for the training of trainers, teachers, and social workers. I enjoyed this work enormously and it took me all over the country. I met lots of interesting and inspiring people and made some good friends. Through my day-to-day work in this football-mad country, I was able not only to enhance my professional skills, but also to hone my personal and social skills – in cooperation with my Brazilian colleagues.
While I was working in Brazil, two sports education books came to be written, and we still use them in the training (and further training) of trainers in the countries where Football for Worldwide Unity has partner organisations.
Back in Germany
All over the world, people are learning through participating in sport. After many years in a lot of fascinating countries, it was nevertheless time for me to return to my home country and put my experience to use here as well. In Germany too, especially in the training of sports club trainers, too little attention is given to the broader educational dimension.
In Brazil, people often asked me how we use sport in Germany as a way to acquire skills. Unfortunately, I could only ever report that in Germany educational work is usually only done in schools. And, unfortunately, sports clubs are far too often only concerned with their sporting results. The many important learning opportunities which are associated with sport have been neglected until now.
This was another reason why I chose to return to Germany. I wanted to integrate the educational dimension of sport into the clubs' training in Germany as well. This was a challenging mission, because in football - in Germany too - making changes to the curriculum is unfortunately a slow and laborious process.
Studying Sport as a door opener
When I arrived back in Germany, I decided to re-examine the knowledge I had gained and to give it some structure (I was mostly self-taught), ideally by studying sport at a university. When I was in Brazil, I had already worked with the German Sport University Cologne and developed measures for monitoring and evaluation. As a result, I became increasingly keen to add a scientific/academic dimension to my extensive practical experience.
I chose to follow a course in "Sport and Training as an Applied Science", with a focus on the training of children and youth. This turned out to be an excellent choice. I was able to study full-time, however, only because I was given a loan by the AGdD Reintegration Programme. It was well worth it and opened up a lot of new doors for me – as regards the subject, and because an academic degree simply counts for more in the (international) labour market.
This is reflected in the many new assignments that I have been given, such as the management of an international training course run by GIZ and the German Football Association, and a project on the integration of refugees in Turkey, commissioned by GIZ and the German Olympic Sports Confederation. I also give lectures and workshops for Engagement Global and often run sports education projects in various day-care centres for young children and at a primary school in Berlin.
I continue to follow the call of my heart and try to exert a positive influence on as many people as possible through my sports education work. Unfortunately, there are a lot of children for whom joyful moments in sport are the only ones that they experience in the course of the day. This spurs me on and motivates me to continue working in sport.
Sascha Bauer was Football coach and trainer of trainers, sports scientist 2013 - 2016: Brazil GIZ (article published in transfer volume 02/2021)